TANIO Original Motorcycle Body Cover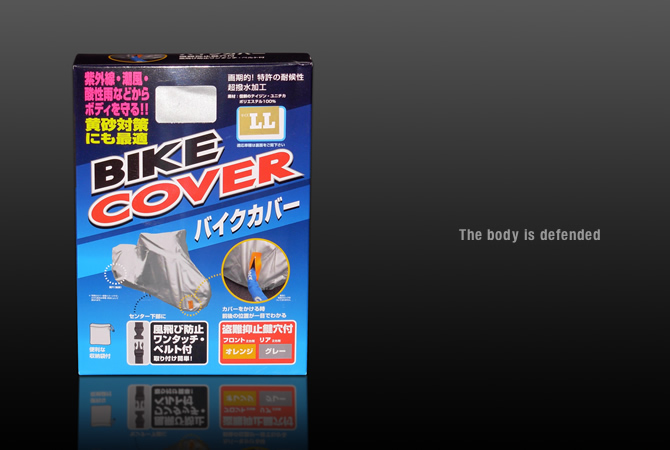 Protecting beloved bike's body by super water-repellent processing.
Points
The slit corresponds to the major style locks on the market.
The body is defended from UV rays, the sea breeze, and acid rain, etc. It is the best also keep out for yellow sand.
Epoch-making! Weather proof of patent. Super-water-repellent processing.
Reliable Teijin-Unitika. Polyester 100%.
The slits are adopted at the front and rear two locations.
At the time of use it, you can recognize the front side and rear side position at first sight by the color design of the slits and the front is orange, the rear is gray.
The one-touch belt of the flapping prevention is attached to under the center.
It comes with convenient storage bag.
Slits for the lock & one-touch belt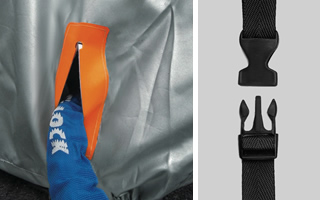 Points of handling
Please take care enough about the handling of the rainy season and summer especially because it is not a complete waterproof though this product is a waterproof fabric.
When a cover has got wet with water and rain, take it off by all means, and please use both after drying cover and vehicle. It causes the rust of the following and the seams and the edges discoloration when leaving it for a long time with getting wet. (In particular, please take care for the vehicle painted by metallic paint)
Please put on cover after a while, because the engine and the exhaust muffler, etc. are very high-temperature immediately after driving.
Please use this product as a body cover for the scooter and motorcycle.
Size
Remarks
Application chart
M
161-180cm
L
181-197cm
LL
198-220cm
3L
198-220cm ・ for Fairing Model
4L
217-240cm
5L
220-240cm
DIRT
Including Big Scooter Standard type
Special A-α
-
Special A-β
-
Special B-α
-