r's gear "WYVERN" Z-Series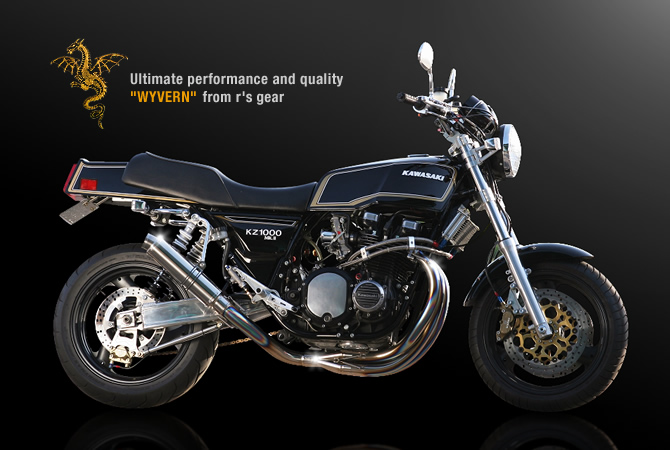 The top and origin of the exhaust pipe.
The hand-bent exhaust pipe with mirror finish titanium.
The ultimate performance and quality
The Wyvern exhaust muffler brings out the maximum potential that each engine has.
That is performing comparison stability and output characteristic, it is repeated the real riding test for total of dozens of hours and dynamometer test by the Osamu Hiwatashi who is representative "r's gear". He has the experience of development, which are the many works machines with SUZUKI GP500 and superbike.
As well as it has no equal product, highest quality and high-performance collected style pipe, it is by combination which is an artistic and exactly the same high precision hand-bend technique and specialist of the titanium welding who has the experience for 20 years solely for a welding operation.
Impressed emblem of the collected part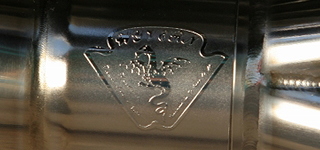 Points
Super Lightweight
The "WYVERN" to use titanium-pipe, it produced by the pipe-making that sat the range/standard that is strict than JIS (Japanese Industrial Standards) and it was achieved super lightweighting to use titanium to the material till the internal of silencer. As a result of these lightweighting, improves maneuverability performances, "to run", "to turn" and "to stop" to the high-dimensional.
The different dimension acceleration
A dynamic output characteristic has been achieved that made from the collected style structure without the compromise, and that adopted ideal pipe size by the repeated test. "The acceleration of different dimension" has been achieved by the synergy effect of maximum approximate 8-horsepower increased the power and the lightweighting to the limit.
Deep Bass
The dry deep bass drawn out from silencer of straight design "WYVERN" sound has achieved that good pickup at the same time to bring back large displacement motorcycle original wonderful sound quality.
Adaptation :Kawasaki Z/KZ750('72-'79), Z1・Z/KZ900('73-'77), KZ1000('77-'80), Z1-R('78-'80), Z/KZ1000J, Z/KZ1000R, Z1100R
Silencer: Cross‐sectional shape of perfect circle, material is titanium.
Total Weight: 3.5kg (7.7llb)
Noise Emission data: Less than 99db (in Japanese standards)
Type of Collecting Style: The 4-2-1 structure that has baffle plates built-in to internal of 4-1 structure. 4-1(inside 4-2-1)
※ Z/KZ/Z1-R, -'80 models have to change to Flat Oil filter Cover and Drain Bolt. (Selling separately)
※ J/R, '81-'84 models may have interfere it by an individual difference.