TANIO Motorcycle Body Cover with Warning Print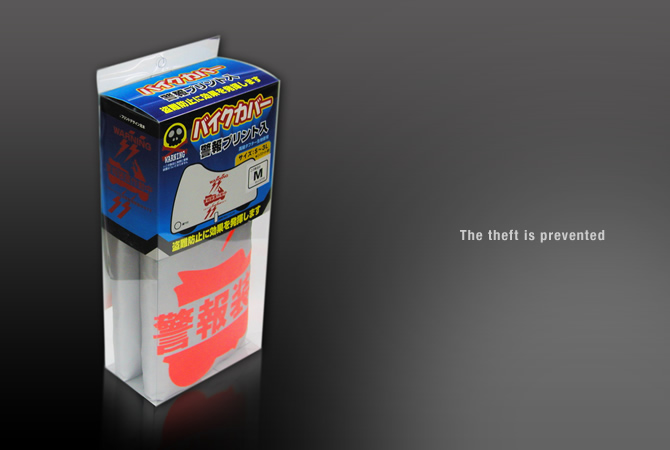 MotorCycle Cover With Warning Print

The warning print is in effect to anti-theft.
Points
The warning print design deter the theft.
It has the belt of the flapping prevention and the hole for the lock.
The high quality taffeta fabric is used. (material: 100% polyester)
The Design of Warning Print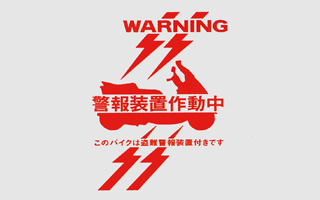 Points of handling
This product is not including the safety alarm.
This product doesn't completely prevent the theft. It is only controls to the last. When you park the motorcycle, please use together U-lock or wire (or chain) lock of on the market.
Please put on cover after a while, because the engine and the exhaust muffler, etc. are very high-temperature immediately after driving.


SIZE
SKU
DIMENSIONS (cm)
APPLICATION CHART
S
50cc~
●SCOOTER
●MINI BIKE
Fairing model also
EBW-S
Overall Length : (A) 190
Overall Height : (B) 120
Overall Width : (C) 95
Rear Upper Width : (D) 25
Rear Lower Width : (E) 40
Rear Height : (F) 70

M
50cc~125cc
●SCOOTER
(with front basket)
●MINI BIKE
Fairing model also
EBW-M
Overall Length : (A) 205
Overall Height : (B) 130
Overall Width : (C) 100
Rear Upper Width : (D) 25
Rear Lower Width : (E) 40
Rear Height : (F) 80
L
125cc~250cc
No Fairing model
EBW-L
Overall Length : (A) 210
Overall Height : (B) 130
Overall Width : (C) 100
Rear Upper Width : (D) 28
Rear Lower Width : (E) 55
Rear Height : (F) 90
LL
250cc~
Fairing model
EBW-LL
Overall Length : (A) 220
Overall Height : (B) 135
Overall Width : (C) 95
Rear Upper Width : (D) 28
Rear Lower Width : (E) 55
Rear Height : (F) 90
3L
250cc~
Fairing model
EBW-3L
Overall Length : (A) 240
Overall Height : (B) 140
Overall Width : (C) 105
Rear Upper Width : (D) 30
Rear Lower Width : (E) 55
Rear Height : (F) 95
BIG SCOOTER
Special
250cc~
EBW-5L
Overall Length : (A) 240
Overall Height : (B) 155
Overall Width : (C) 110
Rear Upper Width : (D) 30
Rear Lower Width : (E) 55
Rear Height : (F) 95